This past week has been the perfect mix of busy and lazy, as I revel in not having many places to go whilst running errands and finishing up sundry tasks for ETTI and VIA. Not to say this week hasn't had its share of oddities or stories---climbing around the ruins of former Zhongdian while watching a white wall of snowstorm slowly obscure all views and blow towards me; or ending up at KTV (karaoke) with the police--- but all the same, it seems a good time to finally write about the week spent in Qinghai Province. (see previous posts for background info.) We also continue not to have running water at the house.... This means needing to break the ice in the buckets each time I want to flush the toilet, and when I tried to put on deoderant this morning it was frozen and needed to be shaken thawed.

On my 2nd full day in Qinghai I went for a hike with Jonas and Sarah above the Kumbum Monastery, which is just a bit outside of Xining City. We took a shared car to the entry of the Kumbum and walked through the outer courtyard before starting up the kora, the circumabulatory route around the monastery. We walked past several pilgrims prostrating themselves flat out on the path at every third step as they went! I had heard of this before, but it was the first time I'd actually seen it, and wow. After a bit of walking on the kora we left the path and went up a hill, through trees (a rarity in arid Qinghai), and continued along the ridgeline.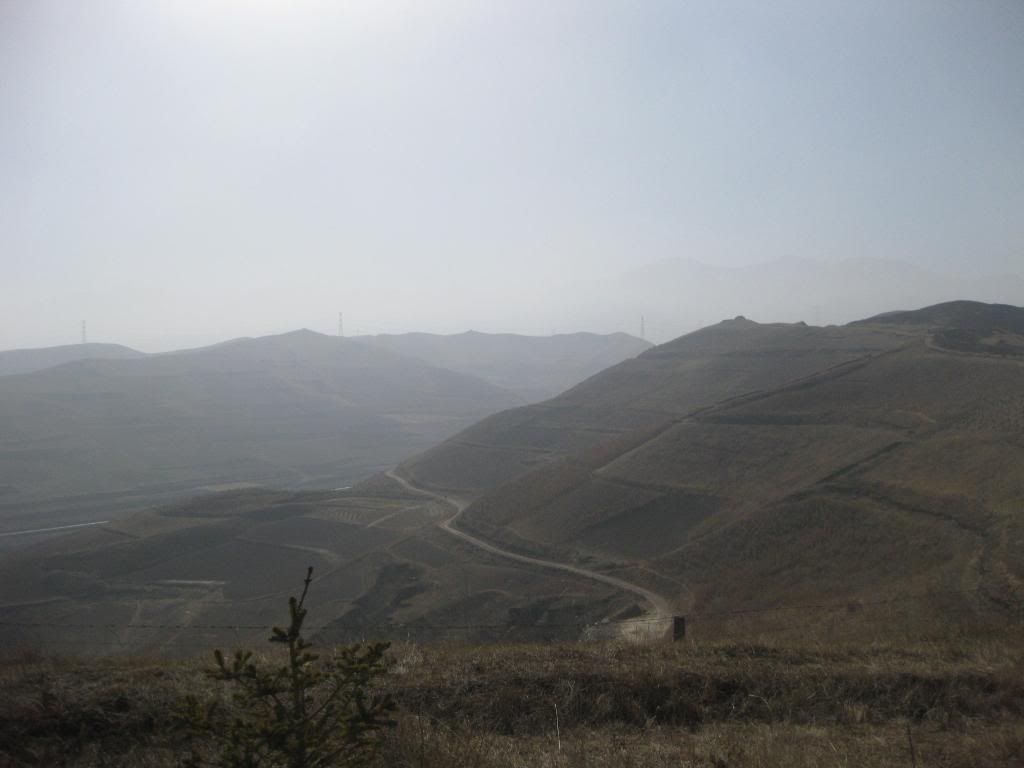 What you need to know when going to Qinghai is just how arid it is. Coming from the fertile 3 Parallel Rivers region, I was continually surprised by the dry brown expanses of dirt and rock. According to Jonas, the only things that grow in Qinghai are: sheep, potatoes, and qingkejiu(青稞酒,barley liquor). Unfortunately for hiking that day the air was full of smoke from people burning fields, and probably from coal-burning in Xining too.

As we hiked along the ridge, Sarah, Jonas and I tried to sing "Lh*sa Bar," "拉萨酒吧" by the current most popular T1betan singer, Genga 根呷, but couldn't quite remember all the words. That song has become a VIA obsession!! Watch the video under the link to get a taste of the song; the video itself isn't very awesome, but (surprisingly) there appear not to be many music videos of it out there.
*Jonas and Sarah looking rockstar on the ridgeline, backed by prayer flags:



Unfornately for walking along the ridgeline and--especially once we saw rifle-toting men moving through fields, clearly searching for something--coming down the ridge, I was reminded that my shoes have no tread. I fell multiple times and ended up sliding down much of the hillside on my butt. The stronger gravity and increased altitude of Xining's comparatively low altitude of 2200 m (7213') contributed to the gravitational pull of body to ground.



After evading the mysterious gun-toting men, we walked down a valley and through a few small villages. Village children ran up to us shouting, "Hello!" and got quizzical stares + "Hello!"s from the adults. Finding ourselves on a major road, we waited for a bit to take a bus back into town, but every bus that came by was so full we could not even have crammed on if we had tried. Eventually we waved down a van, and for the price of 5 yuan/each (70 cents) we rode the 40 minutes back to Xining.

Aside from exploring Xining for a few days (and getting lost in the doing) I went on an overnight trip to a town called Rebgong, ~3 hours south of Xining, to visit Brooke. Rebgong is a small-ish town dominated by a large monastery, where donkeys wander the streets. I took a few walks in the hills above said monastery when Brooke was in class.
*Yak pelts on Rebgong sidewalk:

*Donkey above early morning Rebgong: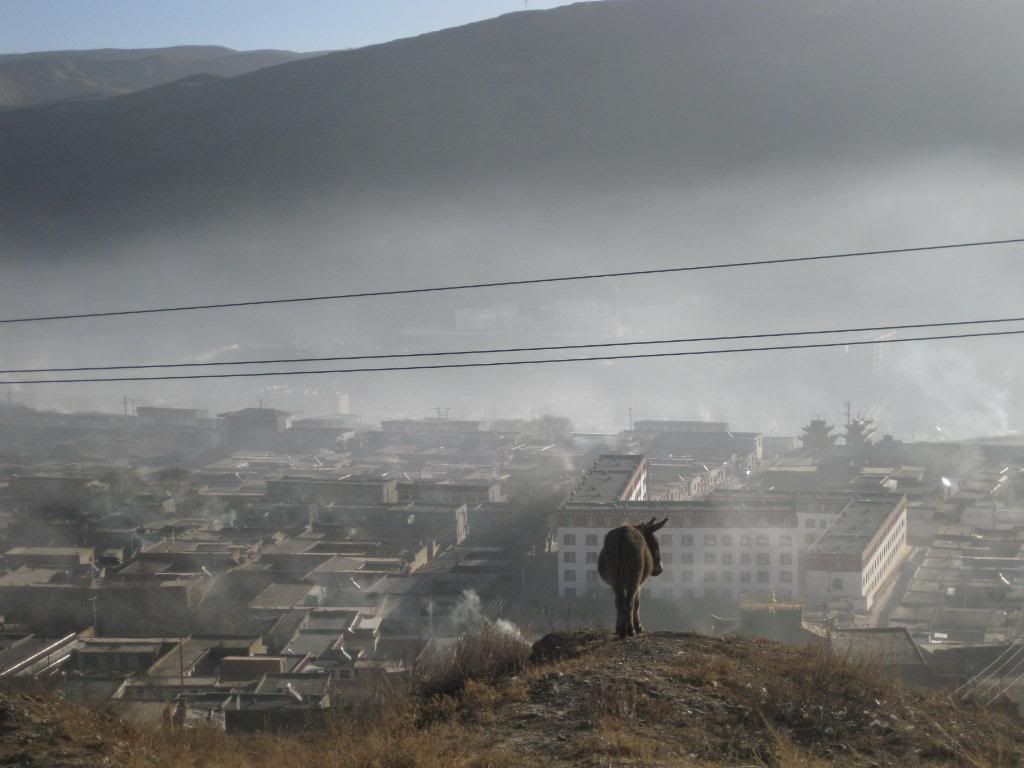 In Rebong I was also deputized by Jonas to buy him a bucket. A bucket of what??....... of yogurt!!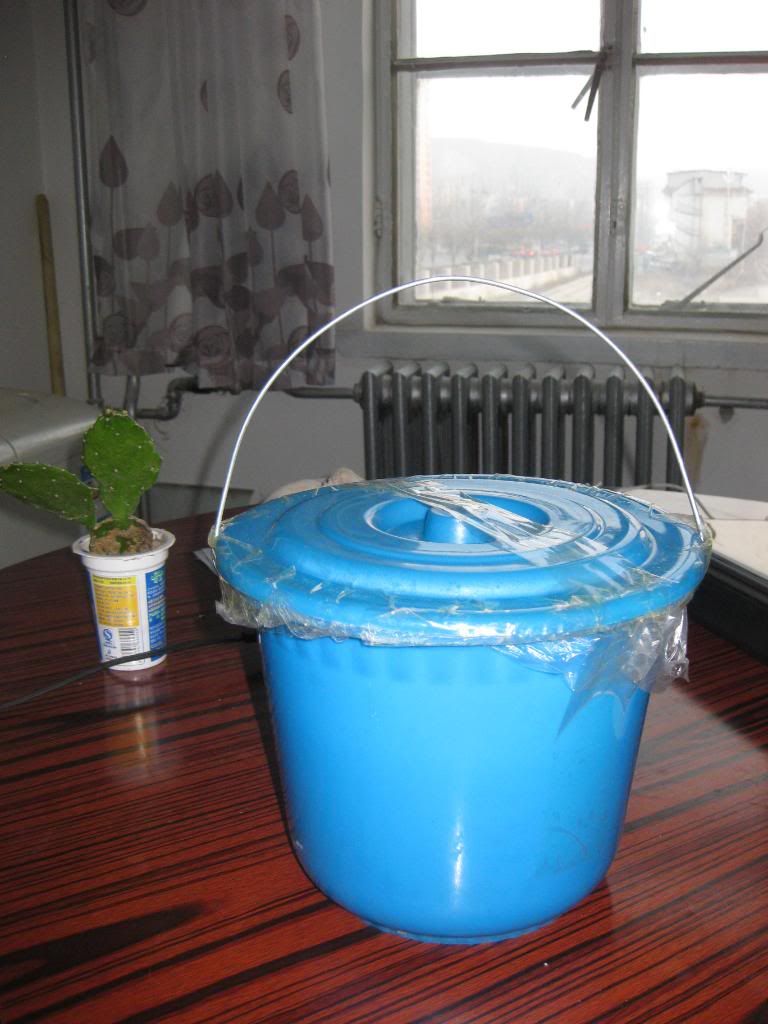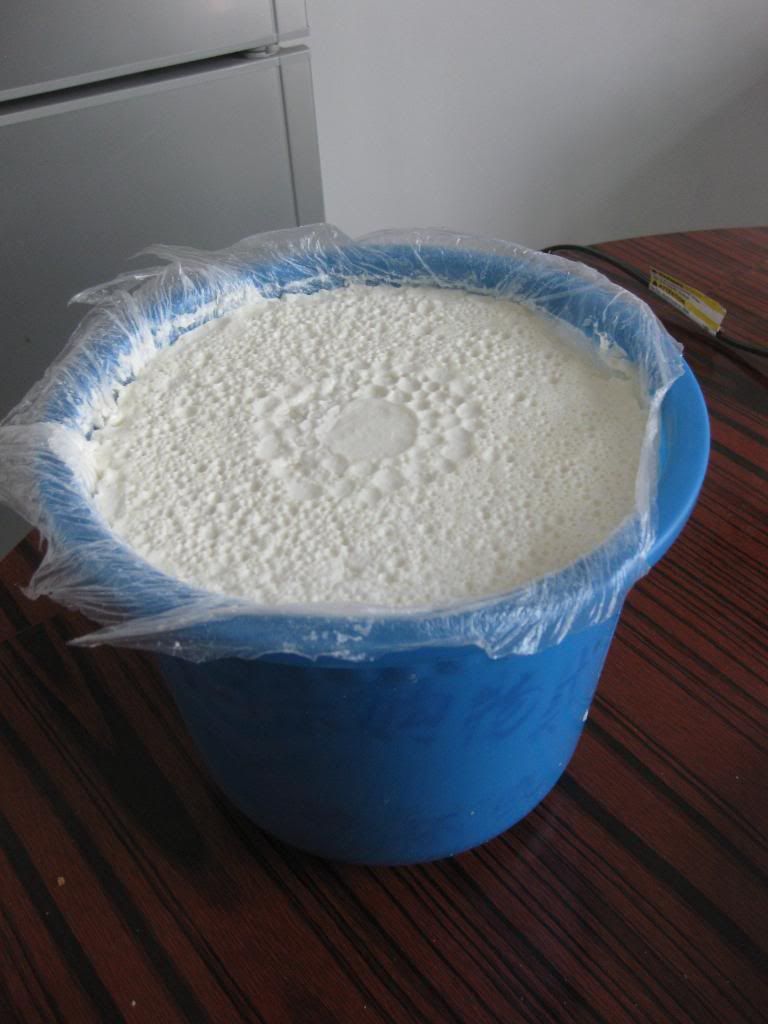 I left Rebgong on the afternoon of Thanksgiving. Mid-kora around Rebgong monastery that morning, spinning interminable prayer wheels big and small, I realized the holiday and found it completely appropriate to be doing a kora and spinning prayer wheels on that day. When I returned back to Xining we had a veritable feast, with 11 people present! Including---very cultural---KFC in place of turkey. Having been raised vegetarian I didn't care whether or not we had a bird, but some of the others did. We also had a few rare-in-China delicacies like pie.
*Rebgong prayer wheels; *Remnants of the meal (KFC & beer); *Devin and dad prepared to 'carve' the KFC.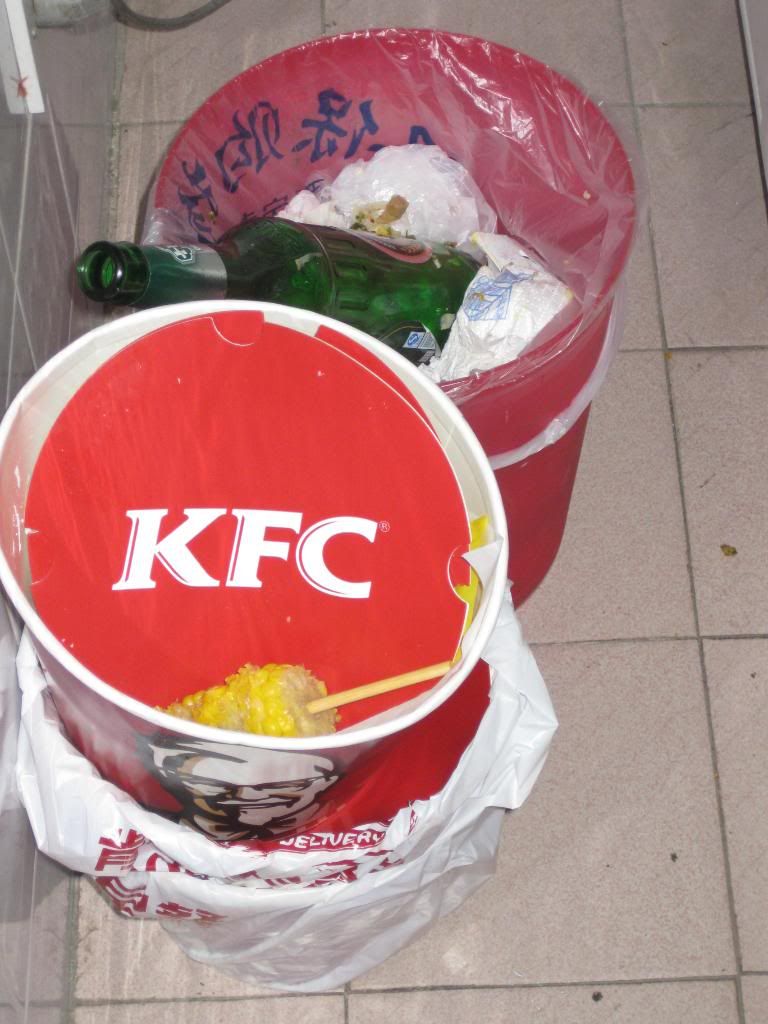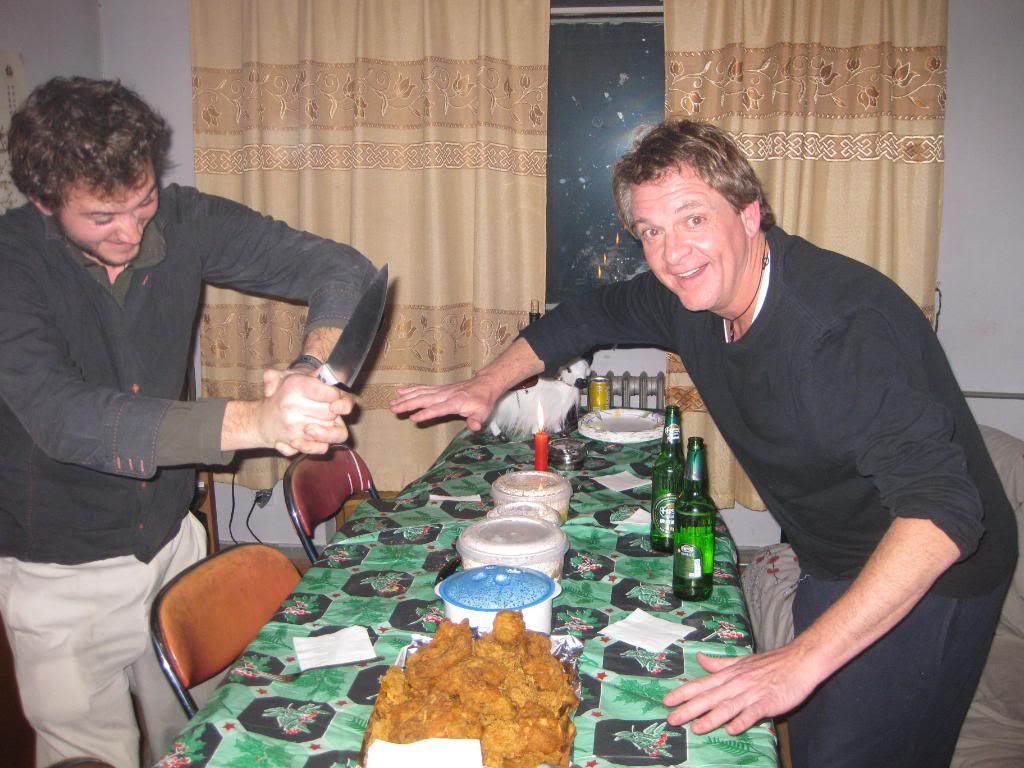 *Somehow we managed not to buy any of this butter (yes it's all butter!!) for Thanksgiving.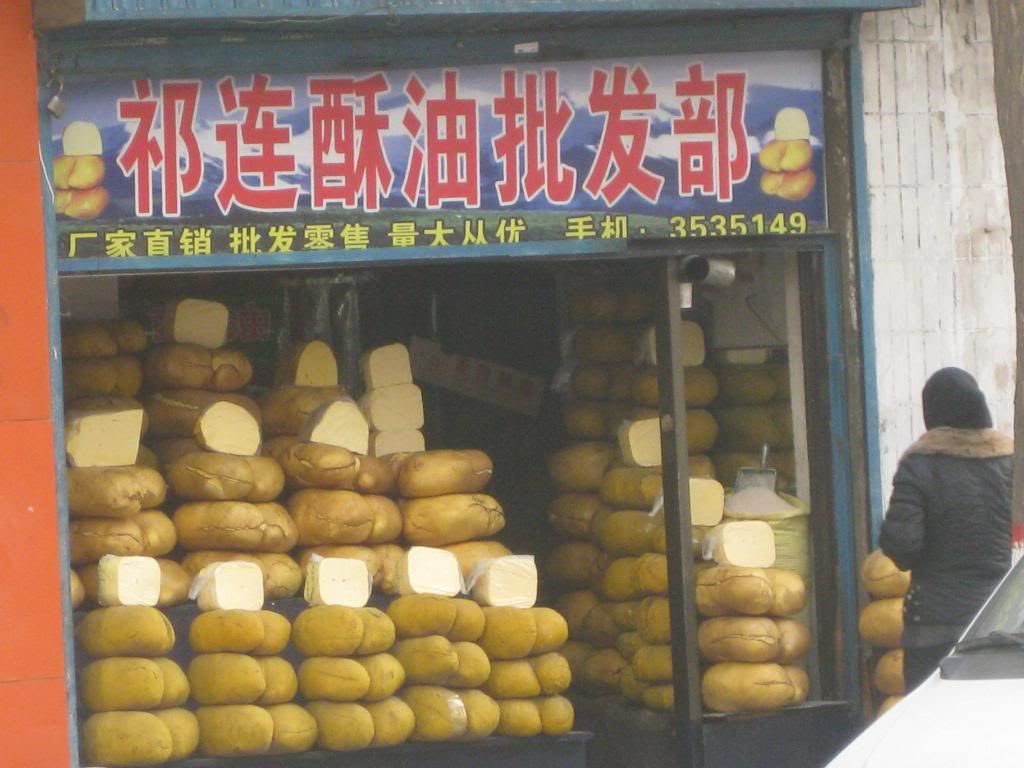 Finally, it was time to leave. There was only 1 flight/day between the provincial capitals of Xining-Chengdu-Kunming, so I left at night, arriving in Kuming at 1:30 a.m. (gross.) But it turned out well, because this meant I had a day of urban delights, such as finding a Carrefour and buying hot chocolate mix; and getting a cheap (!) sandwich from a bakery, before taking the sleeper bus overnight back up to Shangri-la.

*Sign in Chengdu airport, as found in a women's bathroom:



*In China, Red Bull isn't an "energy" drink, it's a "Vitamin Functional Drink." I was drinking it for the vitamins and the functionality. This picture taken at the guesthouse. Sandwiches in China are such a rarity.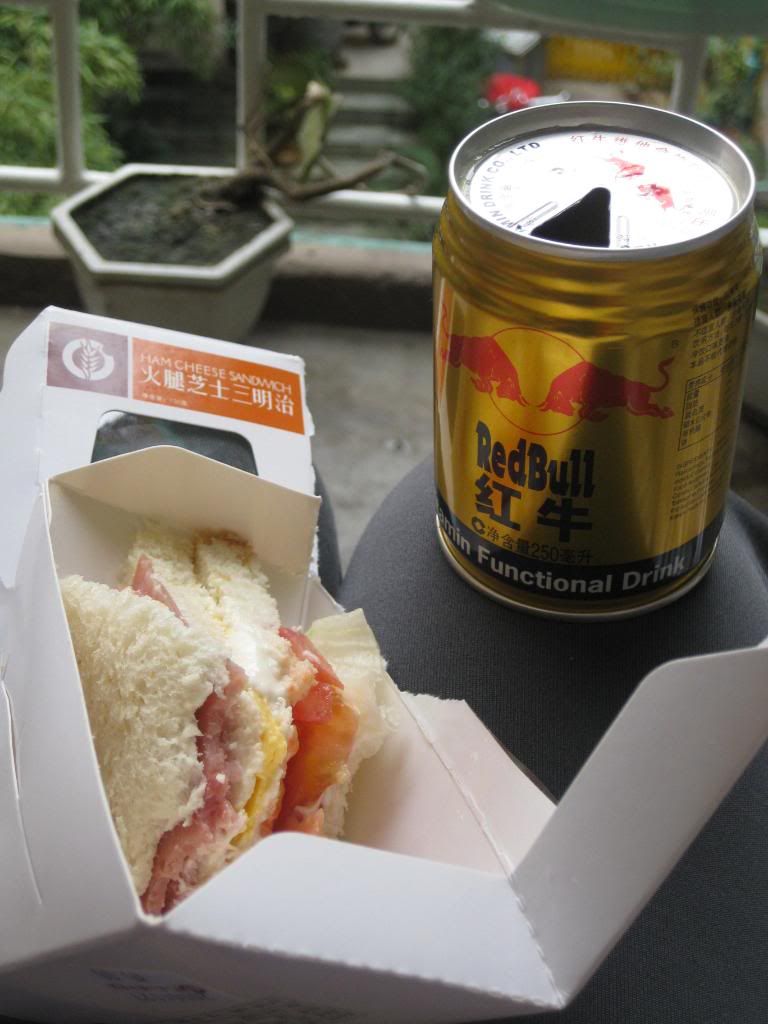 Current Mood:
lazy
Current Music: Lh*sa Jiuba